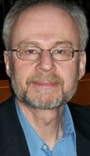 Steven Lewis (pictured) is a health policy and research consultant based in Saskatoon, and an Adjunct Professor of Health Policy at Simon Fraser University. Prior to resuming a full-time consulting practice, he headed a health research granting agency and spent seven years as CEO of the Health Services Utilization and Research Commission in Saskatchewan. He has served on various boards and committees, including the Governing Council of the Canadian Institutes of Health Research, the Saskatchewan Health Quality Council, the Health Council of Canada, and the editorial boards of several journals, including Open Medicine. He was the second annual Mowafaghian Visiting Scholar, on May 23, 2012.
A complete recording is available below. It is a large file and may take several moments to load.
View complete text for Steven Lewis remarks.
ABSTRACT
Speaking on the topic "What the Dickens: How Canadian health policy orphans children's health," health policy expert Steven Lewis argues that Canadians live in a low-tax, highly unequal society that costs more than it delivers.
Canada has a high incidence of children living in poverty — higher than many other developed countries. Over the past 20 years the incomes of the poor have barely changed while the rich have become substantially wealthier, he says. This has led to increased insecurity, displacement and marginalization for poor families.
A provocative theory described by British epidemiologist David Barker suggests that chronic diseases such as diabetes, as well as many forms of cancer and heart disease, are not mandated by genes but are the result of modifiable factors that play out over the life course, including the production and distribution of wealth. Lewis says that if this theory is "even half-right, it's a game changer for what you do in early childhood development."
Just as provocatively, more equal societies may also be more innovative — at least as measured by patent applications. Countries leading in this area are Finland, Sweden and Norway — "those social-democratic, northern European countries often derided as low-growth staid backwaters of stifling egalitarianism," according to Lewis. This challenges the notion that the prospect of great wealth concentration (and the resulting inequality) is a precondition for innovation and productivity.
In the 1950s, '60s and '70s, Canadians gave governments a mandate to levy comparatively high taxes to make investments in the future in the form of education and health and other social programs. Recently, however, Canada has fallen well below the Organisation for Economic Cooperation and Development (OECD) average for:
•    Taxes as a percentage of the gross domestic product
•    Consumption tax rates
•    Environmental tax rates
Partly as a result, the country has shifted from an investment society to a consumption society. Elections are often contested on the premise that Canadians want to keep taxes low so they can spend more on things right now, which becomes the operative definition of well-being. It is no accident that public expenditures in Canada on investments in children, such as child care and early education that will pay off years down the road, are among the lowest in the developed world — lower even than in the US.
Lewis suggests that three actions are mandatory in Canada:
1.    "Recognize that there is no free lunch," he says. By keeping taxes relatively low and stinting on investment in children, society will eventually pay the price.
2.    "Account honestly and report publicly." What are the lifetime costs of providing services for children whose potential is realized compared to children whose development is thwarted?
3.    "Own the problem." Canadian society should follow the dictum: it takes a village — and we're the village to raise a child.
Lewis concludes that "the business community should be just as worried as social workers about kids who fail in large numbers." Business people have a hunger for skilled labour, he reminds everyone. "If we want Canada to have an edge, we must maximize the contribution of every pair of hands and every brain wherever we can."