Mental health day marked by event on bullying
May 8, 2014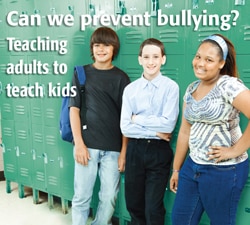 The Children's Health Policy Centre marked May 7 — National Child & Youth Mental Health Day — with an event on bullying featuring Debra Pepler from York University.
Held at the Wosk Centre, the half-day event attracted almost 150 academics, teachers, policy-makers and parents. Pepler spoke for roughly 45 minutes making a convincing case that social learning is just as important as academic learning and that Canadian children are socially behind children in other countries. Her talk included several videos of children in playgrounds being bullied.
Following her presentation, members of the audience contributed their observations and feedback. "Can we prevent bullying?" was the Mowafaghian annual Children's health policy visiting speaker event.