CHPC marks milestone in Nurse-Family Partnership study
December 9, 2019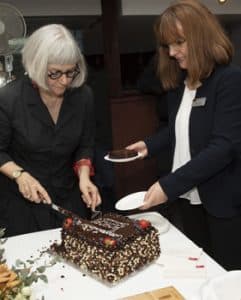 The Children's Health Policy Centre marked the closure of research interviews for the BC Healthy Connections Project, its randomized controlled trial assessing the Nurse-Family Partnership program, with a celebration on Dec. 10.
The trial, which is sponsored by the BC government, involves 739 young mothers and their 744 children. Nurse-Family Partnership is a landmark public health program that begins even before children are born. It involves intensive home visits by nurses, which continue until children reach their second birthday. Program outcomes will be compared with BC's existing health and social services to learn how we can better improve children's mental health and development.
Above, CHPC director Charlotte Waddell is shown with SFU's Dean of Health Sciences Tania Bubela, cutting a cake. Also attending was the Scientific Director and Co-Principal Investigator for the BC Healthy Connections Project (BCHCP) Nicole Catherine and many members of the BCHCP team from over the past eight years.
Guests of honour included BC's former Provincial Health Officer, Perry Kendall, the Executive Director of BC's Public Health Services, Kim Bruce and BC Ministry of Health Nurse-Family Partnership Provincial Coordinator Donna Jepsen.