New scholar joins the Children's Health Policy Centre
October 12, 2023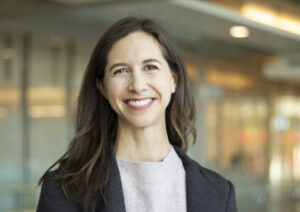 A passion for child and youth mental health has brought Kimberly Thomson to Simon Fraser University and the Children's Health Policy Centre.
Recently named an Assistant Professor in the Faculty of Health Sciences, Thomson started her academic career by earning an undergrad degree in psychology from Queens University. Thinking initially what she'd become a counsellor, she did her Master's degree in educational and counselling psychology at the University of BC.
"But I ended up pivoting away from a purely clinical perspective when I started working with a team looking at children's health from a population level," Thomson recalls. She then joined the Human Early Learning Partnership (HELP)  team at UBC, becoming a research coordinator supporting the pilot of a population-based survey of child wellbeing.
Shortly after that, she began her PhD in population and public health. Her dissertation focused on finding early indicators of children's social and emotional development at the time they entered school. Her objective? To see how these indicators related to the children's future mental health and well-being, using both public health administrative data and also children's self-reports.
"One of the main takeaways was that more than 40% of children entering the school system were showing up with relative social-emotional vulnerabilities," she said, citing higher than average scores for issues such as anxiety or hyperactivity.
Following graduation, Thomson did a post-doc in Melbourne, Australia, where she worked at Deakin University with a group studying the social factors and conditions that predict child and youth mental health. There, she was helping to investigate one of the earliest origins of childhood mental health challenges – among the parent's generation. "We suspect there are multiple pathways between generations," she says. "It can be genetic, but it can also be psychological and social."
But, caught in the crosshairs of the Covid pandemic, Thomson returned to Canada earlier than expected, in 2020. She transferred back to HELP and began looking at mental health outcomes among subgroups that might have experienced inequities, including children who came to Canada as immigrants or refugees. She also studied the impacts of the pandemic on child and youth mental health, including working with the Canadian Mental Health Association, the BC Ministry of Education and the BC Teachers' Federation.
Most recently, she worked at the BC Centre for Disease Control as an evaluation specialist with the population and public health team. "This was a great opportunity to apply my skills in evaluating programs and initiatives that are trying to address underlying social factors — such as food insecurity — that influence population health," she said.
But when an opportunity arose with the Children's Health Policy Centre, Thomson leapt at the chance. "I've always been interested in the intersection between research and policy and practice," she says. "What drew me to the CHPC was the alignment of our goals. I'm especially interested in opportunities to intervene earlier when interventions are more likely to be effective."
Right now, she's developing her research and teaching portfolios and making plans for grant applications. She's also going to be joining Charlotte Waddell and Nicole Catherine on SFU's developmental trajectories research challenge team, for the Faculty of Health Sciences.
"I think we share the same goals," she says. "Our focus is on improving well-being for all children and doing it through policy."