Many happy returns: All babies are delivered
August 15, 2017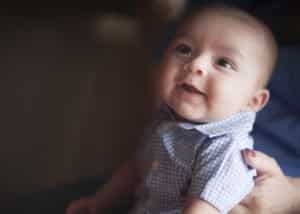 Consider this an unusually weighty birth announcement.
All the babies have now been born to the young mothers enrolled in the BC Healthy Connections Project (BCHCP). There are 744 young ones, including 11 sets of twins.
"People are usually happy to hear birth announcements, but this one is particularly exciting," says Charlotte Waddell, one of the project leads. "We believe this project will give these mothers and these children a stronger voice."
The BCHCP is the first Canadian scientific evaluation of the Nurse-Family Partnership (NFP) program. NFP aims to help young first-time mothers and their children by providing intensive visits by specially-trained public health nurses. The goals are to improve children's health and development, while also improving the mothers' lives.
The success of the program has been widely documented in the US, most recently in a study released July 24/17 by James Heckman, a Nobel laureate economist at the University of Chicago. By ages six and 12, children whose mothers received the home visits were healthier and had better cognitive and social and emotional skills, he found. And mothers had better mental health and parenting skills, he added. A US National Public Radio interview with Heckman spells out why he believes NFP has been so successful in the US.
The BC evaluation is using randomized controlled trial methods to investigate how NFP compares with the province's existing health and social services. Preliminary profiles of the participants will be released later in 2017 with main study results to follow after all the families have graduated in late 2020. An outline of the project may be seen here, along with a journal article on the study protocol.
There are also two adjunctive studies associated with the BCHCP. The first is a Process Evaluation, determining how well the intervention is being implemented and what factors may be influencing its outcomes. The second is the Healthy Foundations Study, examining biological markers of health outcomes for children over the first two years of life.
BC leads the country by being the first province to now offer Nurse-Family Partnership to all eligible women who are interested. Five regional Health Authorities — Fraser, Interior, Island, Northern Health and Vancouver Coastal Health — have opened the program with no need for randomization to control and intervention groups.
To enquire about Nurse-Family Partnership or to enroll in the program, please contact:
Your nurse practitioner, family doctor or midwife, or
Your local Health Authority: